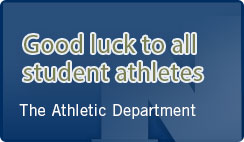 More Events

Outdoor Track vs New Britain

4/23/2019
3:45 PM
Home - Frank O' Rourke Track @ Alumni Field


Outdoor Track vs Hartford Public

4/30/2019
3:45 PM
Home - Frank O' Rourke Track @ Alumni Field


Outdoor Track @ Bloomfield

5/7/2019
3:45 PM
Away - Phil Rubin Stadium


Outdoor Track vs Wethersfield

5/15/2019
3:45 PM
Home - Frank O' Rourke Track @ Alumni Field

Outdoor Track (boys)
CLICK HERE
or text @nhsbtrack to 81010
@nhsindianstrack
for meet highlights
Registration deadline is March 13th. Your registration will not be complete until you've submitted your check to the athletic office and your physical is up to date.

First day of practice is Monday, March 18
Weekdays Practice Time: 3:15p-5:15p
Saturday Practice Time: 9:00a-11:00a










"If you ask me how I want to be remembered, it is as a winner...
A winner is somebody who gave his best effort, who has tried the hardest they possibly can...who has utilized every ounce of energy and strength within them to accomplish something. It doesn't mean that they accomplished it or failed, it means they've given it their best. THAT'S A WINNER."
~WALTER PAYTON~
|
|
Share